BookBrush Review: Using the Custom Creator Tool
How do you share news about your books with your readers? If you're like other authors, you probably use graphics to catch their attention. With BookBrush, you can cut down the amount of time it takes to make punchy advertisements for your books.
BookBrush is an online graphics tool designed for authors. It requires no previous design experience, and offers a lengthy gallery of templates and curated images to speed up the process. Authors who do a lot of their own marketing will appreciate the specificity of the features and the focus on social media platforms.
If you're not comfortable with image editing software, and rather put your time elsewhere (like writing more books!), this author-focused will give you tons of value. It only takes a few minutes to get a professional result. Of course, how professional will also depend on your personal choices, so make sure to approach the tool with a deep understanding of your author brand, and some knowledge of design basics, such as color, composition, and fonts.
Let's take a closer look!
It's easy to create a BookBrush account. The sign-up process asks for the following information:
Email address.
Username.
Password.
If you join with a free account, there's no need to add your credit card information. Easy enough!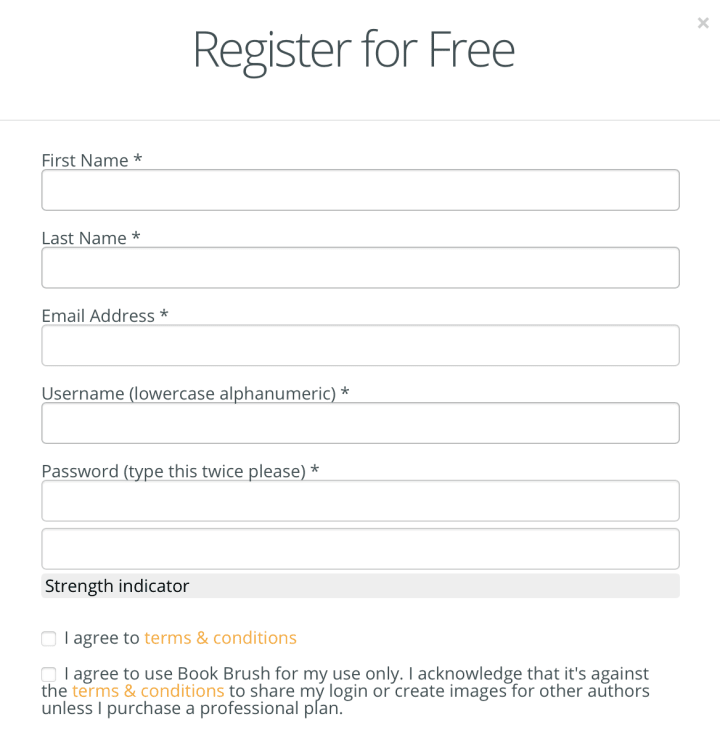 If you don't have much room in your budget, BookBrush's free version might tackle some of your marketing needs. Overall, the interface is pretty intuitive, and the available templates can be a big time-saver if you're in a rush as well as help you create professional looking images.
Under the free version of BookBrush, you get:
Full access to the "Custom Creator" tool.
Free trial of the "Instant Mockups" tool.
Create and save covers with the "Cover Creator" (you won't be able to download them, though).
Access to a database of 1.5 million photos.
Save 10 templates, backgrounds, and image uploads to your account at a time.
Access to 2,000+ templates for ads and promo images.
140+ 3D templates to show off your book cover.
The main drawback to the free version is that you're limited to 15 image downloads total across the different BookBrush tools. The terms and conditions also mention that your account may not be used to create images for other authors, though you can use as many pen names as you'd like.
Full access to "Cover Creator", including downloads of your saved covers.
Full access to "Instant Mockups".
Box set creator.
Trailer creator.
Animation tools.
Video background effects.
Image background removal tool.
Save 50 projects to your account at a time.
The Custom Creator allows you create promotional images for several platforms without wasting time, nor design headaches. The tool is versatile enough to let you express your creativity and brand, but if you'd rather speed things up, there are more than a thousand templates available to use as your foundation. The best part: it's fully available to all BookBrush users, including free accounts.
BookBrush offers preset image sizes catered to different platforms, including:
Facebook: Ads, shared links, shared images, cover photo, video, and group header.
Twitter: In-stream photo, header photo.
Instagram: photo, stories, highlight covers.
Pinterest: Pin, board image.
YouTube: images for videos from 240 to 1080p.
BookBub Ads.
TikTok.
Web ads.
Amazon, including A+ content.
Email header.
Business cards.
Bookmark & coasters.
That said, BookBrush gives you the option to start with a custom size.
If you're running multiple ads on multiple platforms, organization is key. BookBrush lets you:
Add different folders, delete them, and rename them.
Drag-and-drop your saved projects into a specific folder.
Nest folders (also through drag-and-drop).
When it comes to templates, there are more than 2,000 under the "Community Templates" tab. To find one that suits your needs, you can filter your search by:
Genre.
Description.
Platform.
3D image (tablet, physical book, or phone).
Collections.
You can pick more than one category at a time, which will narrow your search.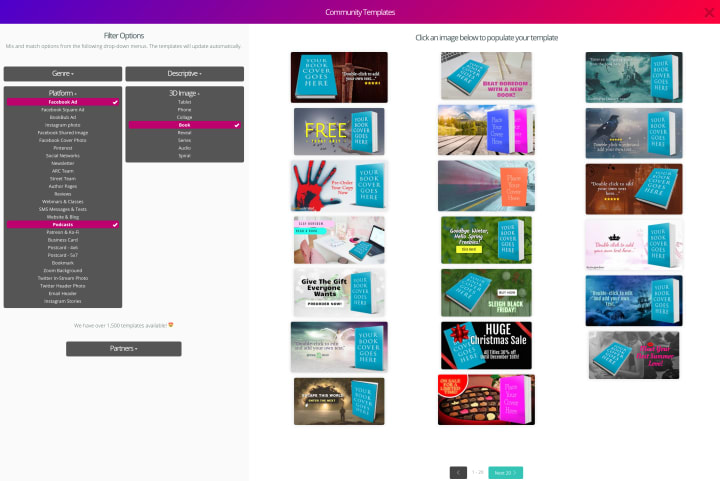 You can plug your book cover in any template. Authors love these Community Templates because they are completely editable. While not all templates might appeal to your brand or particular taste, they might be worth considering if you need to work quickly. A few quick edits can completely change the look and feel of the image.
When it comes to adding a background to your project, BookBrush has the following options:
Use a solid color or a gradient (with or without a border).
Use an image from their gallery. The offer thousands of options, so you better use their search bar to find what fits your needs.
Upload and save your own.
Add an overlay layer to your background.
Add a filter to your background.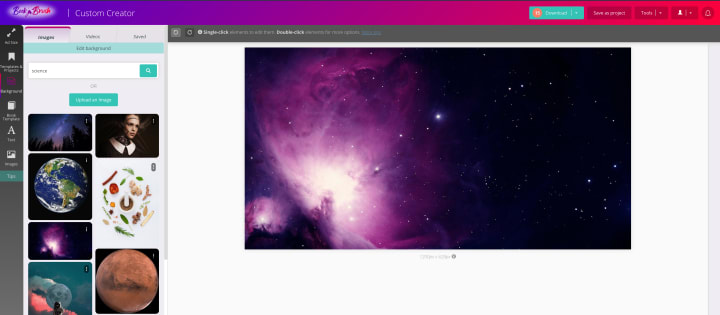 If you choose a background image, you can slightly edit it by playing with the orientation, opacity, blur, and filters (we highly recommend doing instead of leaving the image as is). Overlays' opacity can also be adjusted, which we encourage for a better result.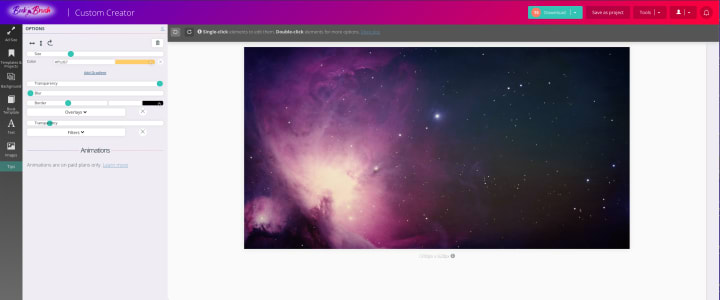 With this tool, you can add a 3D model of your book to include in the promo image. There are over 140 book templates to choose from, and you can filter them depending on the book format you want to display, mainly physical books, eBooks, and audio books along with a variety of cover reveal options, too.
To use these models, you will simply upload your 2D front book cover.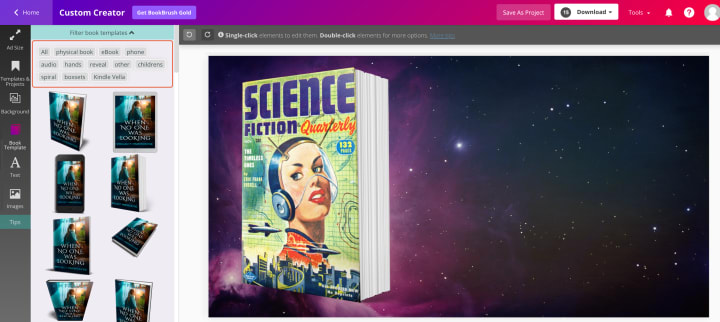 You can add as many text boxes as you wish with just one click. When it comes to editing your text, you can:
Use bold, cursive, and underline.
Choose your text's alignment (left, right, center, or justified). You can also rotate it in 45 degrees spans.
Choose between different fonts from BookBrush's list, which you can grow by adding some extra options.
Pick your font's size.
Change your text's color (including gradients) and opacity.
Add a shadow (be careful with overdoing text shadows!)
Change your text's line height and letter spacing (you should play with these to improve readability).
Lastly, you can add a background to your text box or turn it into a button, which might be particularly useful if you're making an online add with clickable areas.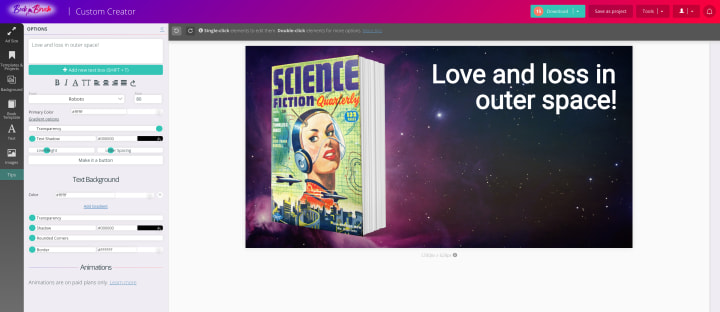 BookBrush offers you a gallery of stamps and clipart that might be relevant to your ad.
The "Community Stamps" shows you images related to book retailers, platforms, and reviews.
You may also upload your own images and save them to your library.
If you're looking for something more specific, the "Search" tab will be your best friend. Again, there are thousands of options to pick from!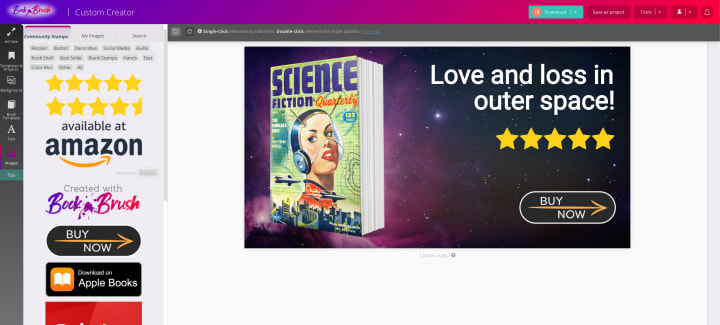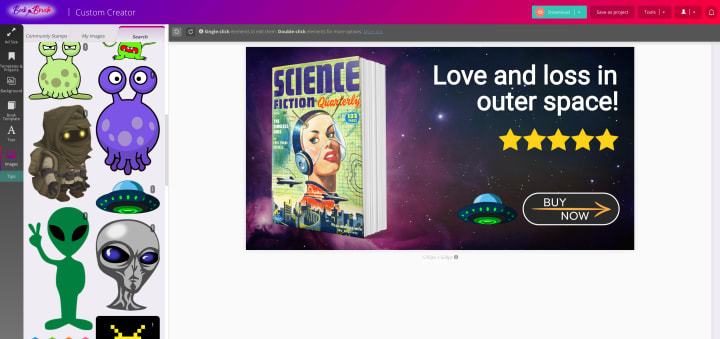 BookBrush will be most appealing to authors who don't know a lot about graphic design and image editing, or have struggled with graphics software in the past. Photoshop pros may expect a greater degree of control, but making some sacrifices might be well worth it to save you tons of precious time, and streamline your image creation with great results and minimum pain.
Registering an account is quick and painless.
A streamlined process where everything is in one place.
Designed specifically for authors' needs.
Not having to think about sizes (there are so many it gets hard to keep track of all of them!)
Straightforward interface, perfect for beginners.
3D models work great.
If you get to know the tool and have a clear vision, BookBrush can definitely save you time. We support anything that helps you reclaim more writing time!
BookBrush offers awesome how-to webinars that cover one tool at a time so you can pick up quick tips and tricks on using their tools.
More limited than other graphics programs available, with fewer editing tools.
Less control over the final product than other image editing programs.
Templates could be helpful as a starting point, but are a bit lackluster otherwise.
Some images take too long to load (especially backgrounds).
Tools can be a bit clunky at times.
You'll get better results if you make conservative design choices, as some of the images offered (both backgrounds and stamps) can turn your composition into a hot, unreadable, mess.
We encourage you to explore BookBrush for yourself, especially if you're terrified of graphic design. BookBrush Custom Creator can help you get into the swing of posting graphics to promote your books. You can turn to this program to make a quick graphic for a flash sale, or remind readers that your book is the perfect beach read for this summer.
Images are powerful, especially when it comes to advertising. They evoke a mood and tap into the viewer's imagination. So, get those creative juices flowing and see what you can come up with. Good luck!