Where to Build Your Author Website
You know how to use your website, you know what it should include, and you've likely devoted a good chunk of time to collecting and creating the materials you'll need to build your site.
Author, your moment has finally come: It's time to get building!
In this article, I break down your four best options for creating a website, with tips for how to make the best use of each. I'm sure it's no surprise I highly recommend SiteArcade. But, like Santa in Miracle on 34th Street, I'm completely honest about the alternatives. There's no one right way for everybody, and Christmas is a whole lot better if everyone gets what they want.
After reading this article, if you're not sure which way to go, set up free accounts and play around with the platforms you find interesting. It can often save weeks of effort to "waste" a day or two on experiments.
WordPress is a content management system (CMS), which means there's a separation between the content of your site, functionality offered by plugins, and the style that themes provide.
On the one hand, this structure makes WordPress a profoundly flexible platform for do-it-yourselfers. But on the other hand, the WordPress ecosystem is unstable. Different combinations of plugins, themes, and versions cause errors none of the coders involved could predict, leaving much of the debugging to the end-user… you.
Expect to pay $15/year for your domain, $50/year for hosting, about $60 for a good theme, and a variable price for premium plugins.
If you want full control over every aspect of your site, and you don't mind the committing time, energy, and heartache to the task.
If you want to keep costs low, and you're okay with using the free (and more buggy) plugins in the WordPress ecosystem.
Use Namecheap for both domain registration and hosting. They're a good company, and we don't get kickbacks for saying so.
To avoid as many bugs as possible, buy a premium theme from ThemeForest. It's no guarantee, but it's more reliable than free themes by a long shot.
Use as few plugins as you can to build your site. Since each plugin can interact negatively with every other, the chance for bugs increases exponentially.
Disable automatic updates for WordPress, plugins, and your theme. Every update is an opportunity for dramatic site failure. Only allow updates when you're ready to do a major site overhaul.
Wix is a page builder, which means it allows you to build your site one page at a time with reusable components. Your typical workflow will involve adding a block to a particular page, changing the content, tweaking the styles, then adding another block.
With no third-party themes or plugins, Wix is very stable and allows you to create a bare-bones site quickly. However, Wix isn't a CMS, so it has no knowledge of how your content relates. Every time you publish a new book, you'll have to duplicate a page, make a bunch of changes, then update your series page, catalog pages, and press kits. Woe is the author who wants to tweak the layout of a Wix site… on every single page.
Wix (plus a custom domain) clocks in between $200 and $350/year. If you want important features like getting indexed on Google, logo generation, or direct sales, expect to pay top dollar.
If you want to build custom page layouts for unique purposes beyond what we cover in this course, and you've got the design skills to do it well.
If you're ready to do direct sales immediately, and you have the know-how to stitch together BookFunnel and Zapier for ebook delivery.
Wix has a free unlimited private demo, so build your website completely before you start paying.
Limit yourself to the fewest possible features. Don't set up a storefront thinking it'll come in handy in 12 months. And much like with WordPress, don't blog. Focus on what matters most.
Complete your home page completely before creating any other pages. Get your brand, style, and layout right up front. It will become increasingly difficult to make changes with each new page you create. Measure twice, cut once.
When creating new page layouts, start with the blank template. Trying to make your site fit Wix's businessy starters will result in a worse experience for readers. (But by all means, use the Contact, Privacy Policy, and Legal templates. No point reinventing the wheel.)
No matter how flexible or beautiful a website platform is, a highly-skilled and highly-paid web developer is more flexible and more beautiful. Of all the options available, only a pro is capable of delivering a robust and immersive experience, like what you find on JK Rowling's Wizarding World.
Unfortunately, it's incredibly difficult to navigate the freelance marketplace. Though many coders will present themselves as both cheap and good, there's no such thing. With programmers, you get what you pay for. Worse, you'll often get much less than you pay for.
While we think these factors take professionals out of the running for most authors, we include them here because they're nevertheless the perfect option for some authors. If you've reached a point in your career where there's no low-hanging fruit remaining, by all means, go with a pro and establish yourself as a publishing institution.
If you have a truly unique vision for your website, and you have the bankroll to pay for it, even as the cost climbs into the tens of thousands.
If your primary product is web content, not books, and your audience spends more time on your website than on their e-readers.
To select a freelancer, search public marketplaces like Upwork. We recommend Reedsy, as all of the developers will have experience designing author sites.
Exploring the actual websites the devs built. If all the sites look the same, expect that yours will too. And if too many of the sites are M.I.A., take that as a bad sign about the quality of their work.
Ask the devs you still like for a video chat. Ask tough questions, and make sure they actually answer. "How do I make updates? What happens if the site breaks? What's the average cost for bug fixes?"
After the job's done, try all the features on your own. Immediately reach out if you have any problems. You want to make sure you're fully comfortable before parting ways.
SiteArcade was built from the ground up for authors, by authors, with quite a bit of magic you can't find anywhere else.
To get started, you just paste your Amazon author profile link into our signup wizard. We immediately import all your books and author info, generate a palette based on your covers, and pre-select a font and logo based on your genre. In under a minute, you'll have a website fit to launch—with all the features described in this course.
From there, SiteArcade keeps your site up-to-date with any changes on Amazon. Your site will automatically promote new releases, new preorders, and price drops, saving you valuable time. After the event, it'll revert back to promoting your mailing list signup.
We're also working on generating gorgeous press kits in HTML and PDF, creating multiple versions of your media assets out of the box. And of course, we handle all of the legalese for your privacy policy and terms of service, as required by international law.
All that said, we have our downsides too. As a young company, we're still building new features, with plans for updates every month for a long time ahead. (Such as easy direct sales, activity streams, event hosting, and more!)
We offer two plans, both with free domain registration.
If you would rather be writing, and you trust us keep your site up-to-date, optimized, and improving steadily, year after year.
If you want the chance to make feature requests, shaping the future of the world's first and only author website platform.
When it comes to picking what platform or tool to use, take your time. Explore all your possibilities, try them for yourself, and make sure they fit your current needs. A rash decision might end you costing you time and money you'd rather be using for other areas of your writing career.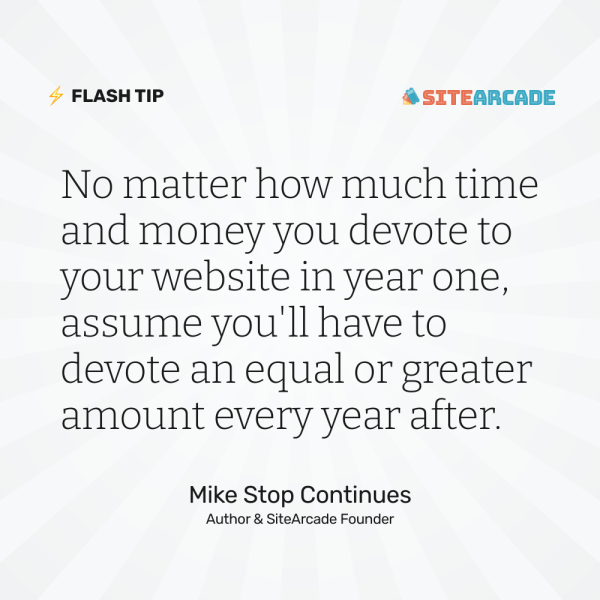 As a rule of thumb, it's best to assume no matter how much time and money you devote to your website in year one, you'll have to devote an equal or greater amount of time and money every year after. Don't believe me? Ask any author who's been in the game for five years or more. Those are hours you never get back, hours better spent writing.
So try out multiple options, and see which one gives you the balance of functionality, flexibility, and convenience that fits your career plan best. The choice will be different for everybody. Make sure yours in right for you.
Next step: How to Grow Your Author Website with Your Career.
See you then!
---
---